Makeup, perfume and pink lighting takes us into a united exploration where everything is allowed, positive, empowering and affirming. Sissy Bomb by Martin Forsberg visualizes non-binary gender expressions.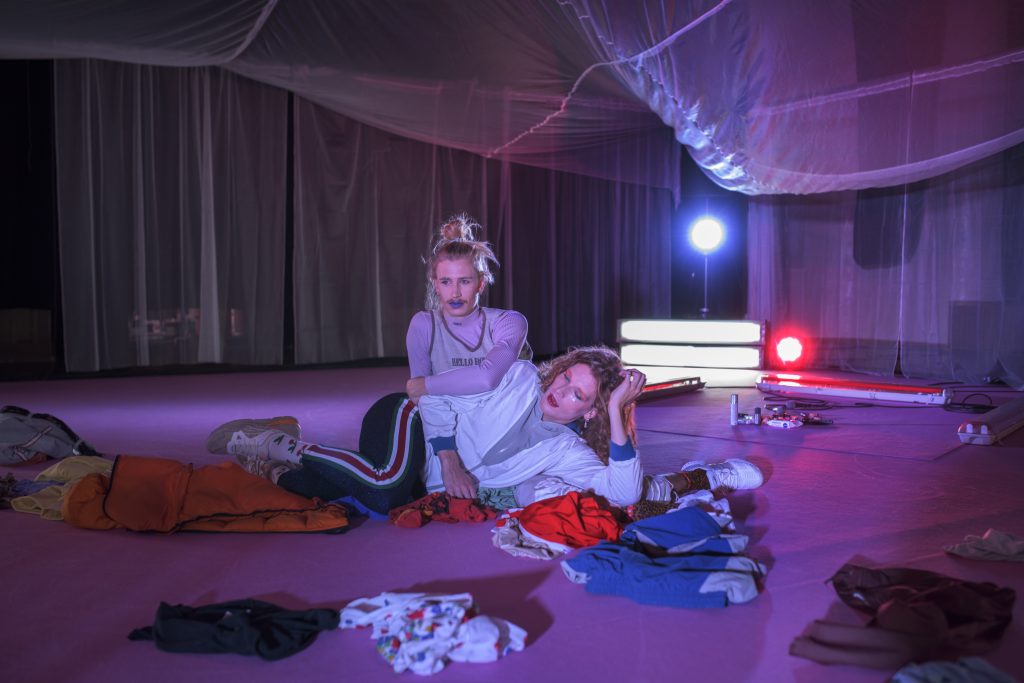 Sissy Bomb by Martin Forsberg. Photo: Res
The introduction to the work we get from the from Vänersborg's Library expresses a great love for the performance and at the same time seems to lack a vocabulary for what is wanted to be expressed. It is remarkable that the dancers are presented before the performance as two men who are challenging norms, which is misleading when Sissy Bomb's clear and pronounced focus is on gender bending through non-binary gender roles and expressions. However, Sissy Bomb communicates and convinces quickly and self-evident, a binary gender system does not exist in this dominant soft and inconstant safe space.
Two people are applying make up, they sit on the floor next to each other. The venue in Vänersborg is filled with tulle, pink lighting and perfume scent. In microphones that transforms the sound to lighter or darker voices, they continuously tell what they are and how they change. Through this game they now decide what all around us is, they tell us what we are seeing. The make up takes them into a united trial where everything is allowed, positive, empowering and affirmative.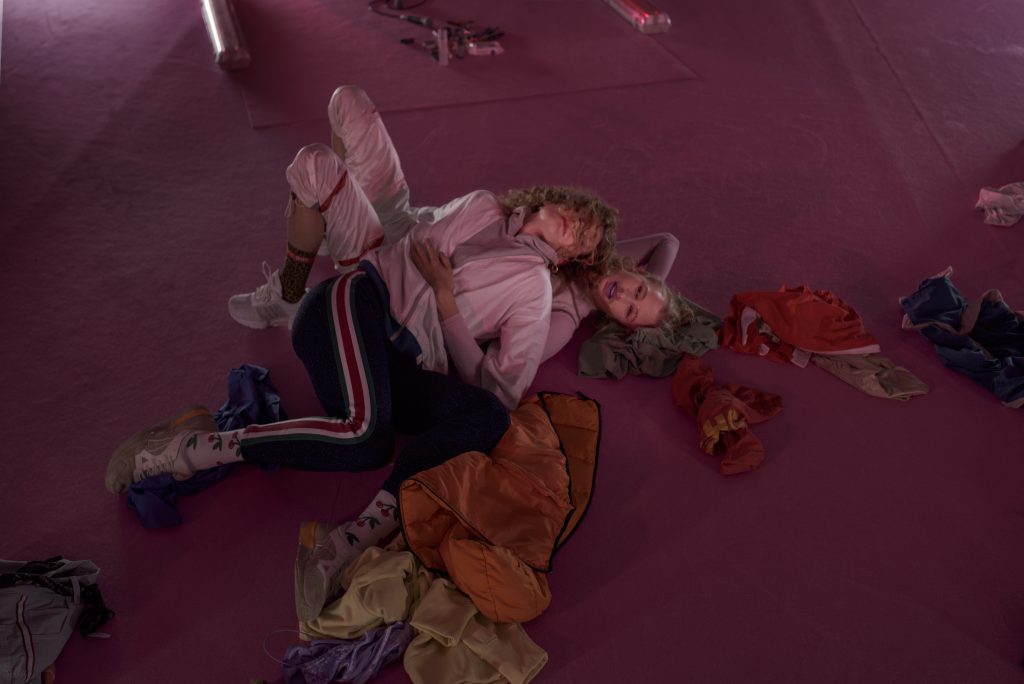 Sissy Bomb by Martin Forsberg. Photo: Res
The continuous transformation process soon expands on the stage. A pile of clothes is used to embody stories about different states and characters. One of many beautiful choreographic moments occurs when the dancers trough words are describing what each movement they make represents. One of many great things about dance is how it can make us understand how movements can make us relate to events, feelings and situations and make us move quickly between them. It is like these states are stored in our bodies and can be picked up. From movement to movement, we now move quickly to completely different states, places and events, and we seem to be existing in several femme-worlds at the same time. Through the music and sound of Tami T, the scene changes from a quiet, soft searching to a powerful, enriching synchronized dance.
In many contexts in society, unfortunately, we still have not reached to the point that it is acknowledged that there are more than two genders, and that all gender roles are changing and can be endlessly expressed.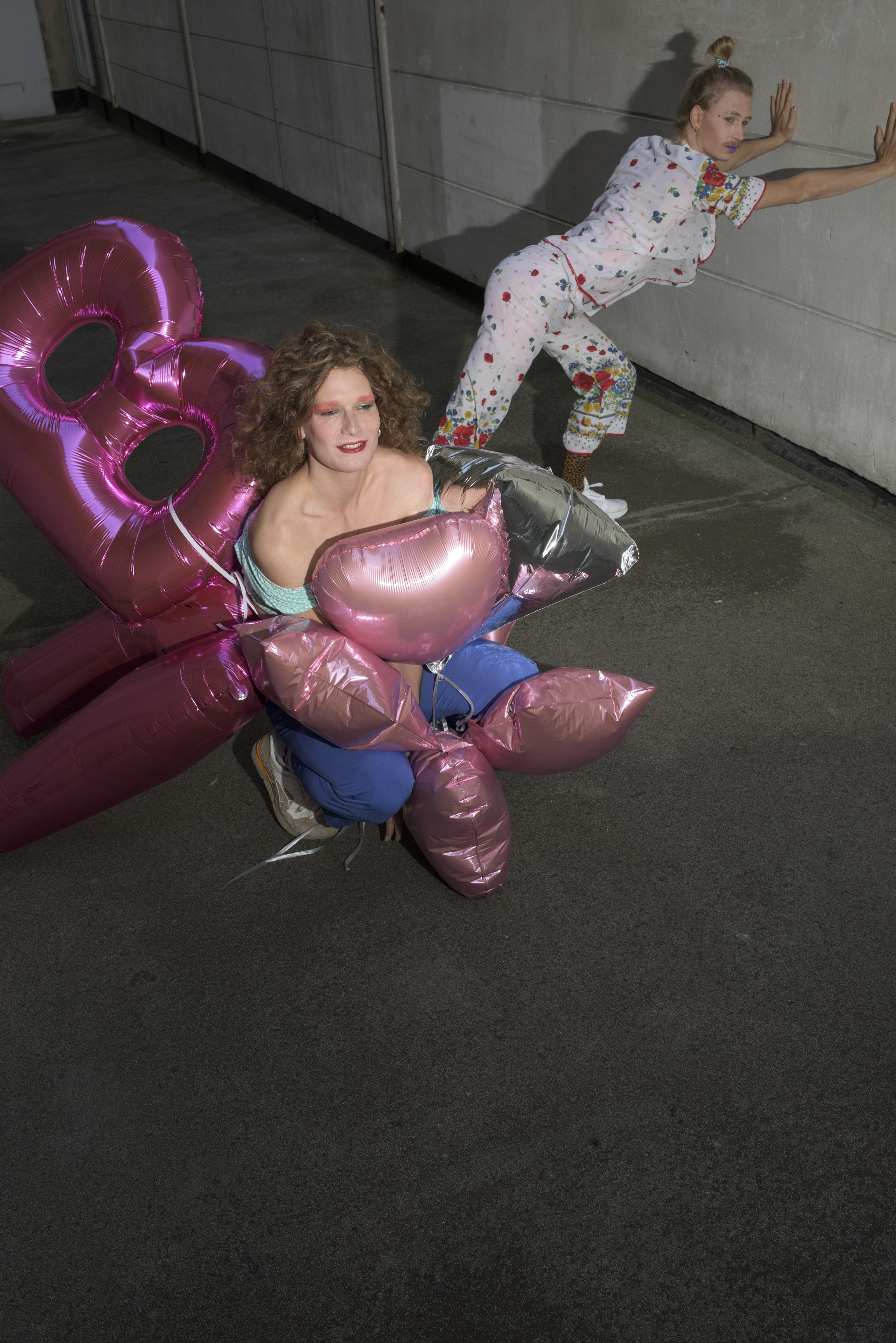 Sissy Bomb by Martin Forsberg. Photo: Res
»For some young people, this is something new, they do not seem to know how to handle the situation.« Explains the dancer and performance artist Snorre Jeppe Hansen for Gallery Extra. This is why, Sissy Bomb is important, every young person should have the chance to visit this safe space.
»We have managed to get extra funding to show dance performances like these.« Says Thomas Johansson, Vänersborg Library. Thomas Johansson, saw the show the first time a year ago and is very happy to be able to take it to Vänersborg. The performance is shown for several pupils in the city.
Concept and choreography: Martin Forsberg
Dance and choreography: Casper-Malte Augusta, Snorre Jeppe Hansen and Daniel Jeremiah Persson
Music and sound: Tami T
Light design: Uli Ruchlinski
Sound design: Tanya Johansson
Production: Therese Johnson, Dansestation Turnékompani
Photo: Res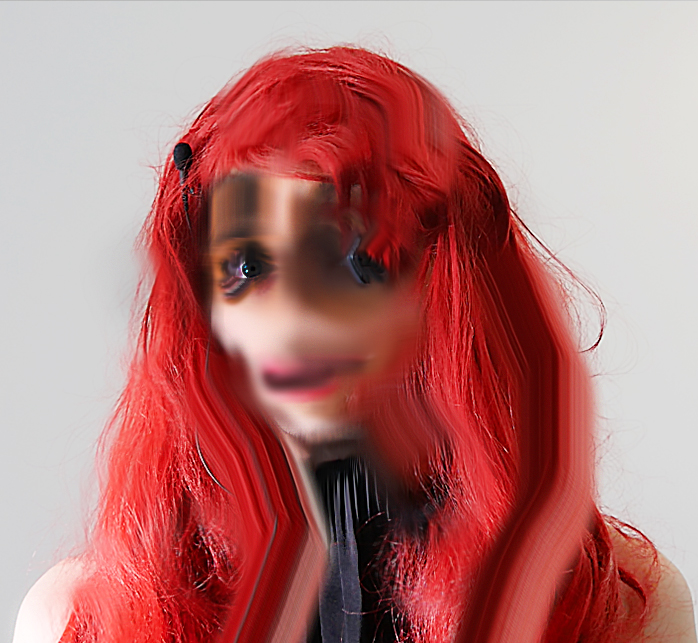 Influential Art Critic writing for Gallery Extra Magazine, Sun Times News and Gallery Extra TV.