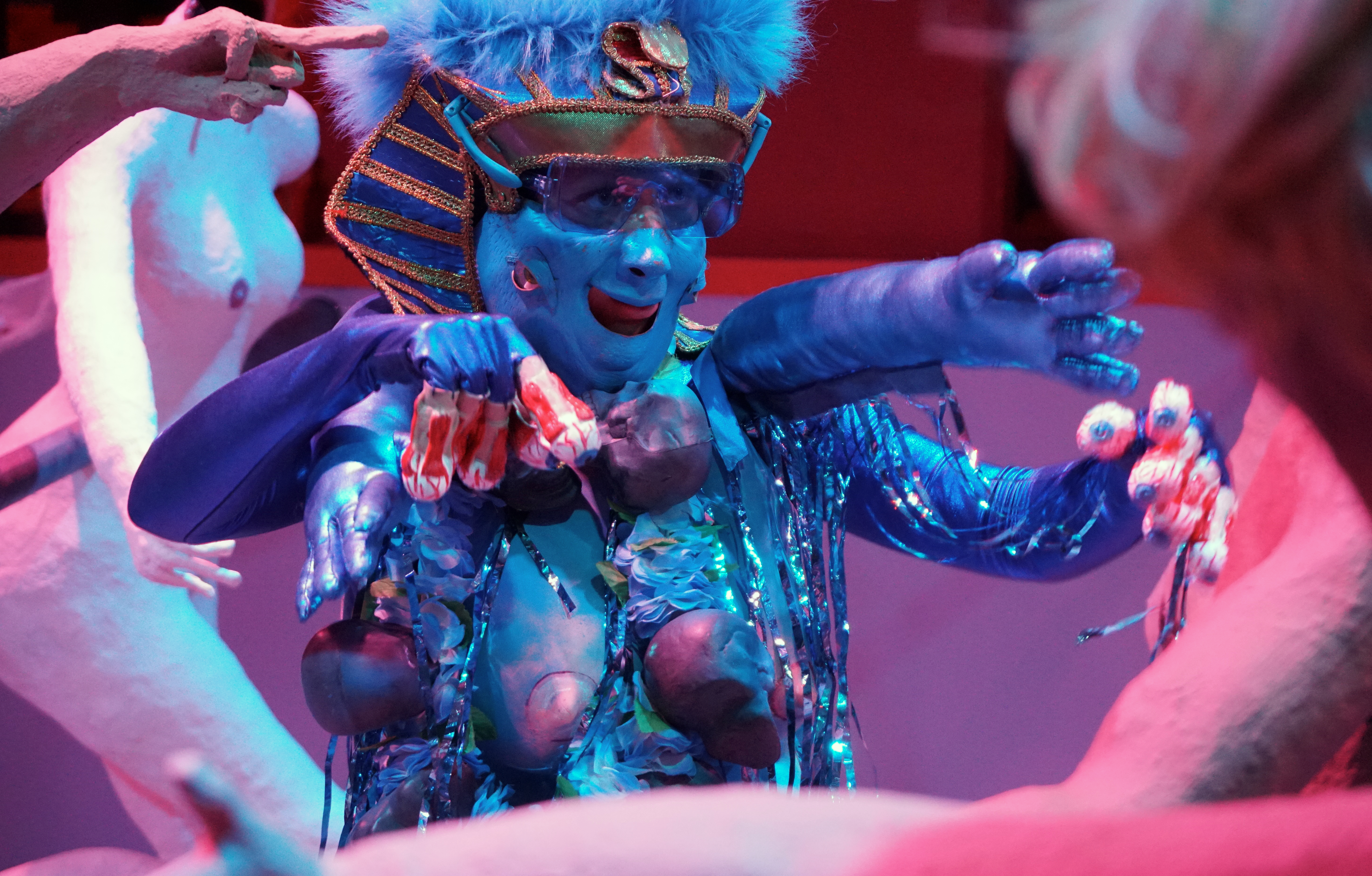 Photo: Lilith Performance Studio / Petter Pettersson


The crowd is gathered outside of Lilith Performance Studio waiting to be let in through the narrow staircase. Soon it will be obvious for us that we will fight until arms and heads fall off and the intestines drop out. Game On by Molly Lowe is both beautiful, uncomfortable and difficult to understand at the same time.
Secret clubs and closed societies is what I think of when we stand there in the queue. I remind myself that Game On is some kind of performance sports event we're going to go on. For a while, I pretend that this is as obvious as it is for many to queue up for a football game, and I play with the idea that we go here regularly to watch the games going on here. Actually, I do not know what to expect.
Several people in the audience I know from before, some are familiar faces from Malmö's cultural life. The tickets for all shows are already sold out by sms-booking, to a price that the audience itself has decided. In some ways, we are a close secret group gathered here to take part in our kind of sporting event.
The crowd is divided into the red and the blue team. A blue person with intense black eyes dressed on me my competition hood, a blue-shimmering cloth with a number is now hanging over my body, the meeting was an intimate situation where I felt safe and well taken care of. I am then guided on. I get some paper and understand that I should buy a souvenir.
Commercialism was in focus when we got this bundle of papers. It was a just dot printed on them. Soon I realized they were money. This currency soon became valuable, after a while popcorn sales and sausages also came out. These things I bought were now really my things, I was thinking about what more I could afford to buy.
The scenography is amazing two full soccer teams of hand-sculpted dolls connected to rotary wheels on each side of the playfield. I quickly get an understanding of what might happen. Sometimes I got the idea that this was a queer room, perhaps because of the fancy costumes, the fiction and drag-aspect of the characters. There was something with this colorful look that tricked me into understanding it as a queer theme. But often the feeling of a queer room disappeared quickly, or it never really was there. Perhaps because the audience still acted like it was a football game. All that glimmers is not queer.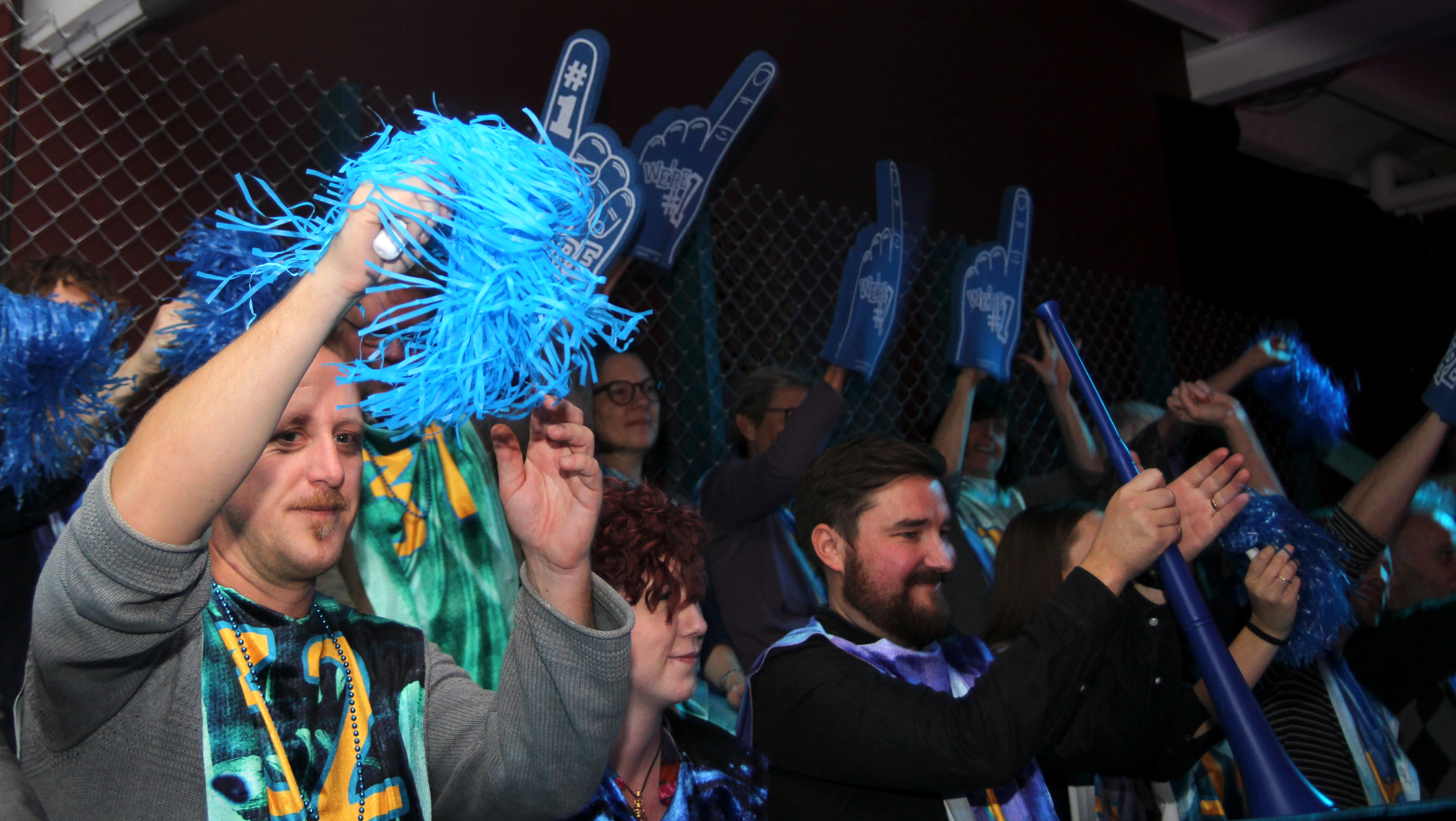 Photo: Lilith Performance Studio /Henrik Andersson
It was a masculine room, the environment was tough and cold, whats colorful in here was always just mascot-, carnival- and football glitter. I had bought a big blue hand, a soccer souvenir that I could feel comfortable with, but I did not know how to handle it. I'm not comfortable screaming and cheering. I started waving a bit with it, using it like a sun feather, then my audience neighbour pulled up their glitter and waved a bit with it. Finally I put down the foam rubber hand and used it as a seat cushion.
The game is in full swing, some in the audience are chosen to spin around the dolls. I'm impressed by how Molly Lowe has got everything in the game to flap smoothly. The audience in the red and blue teams now compete against each other. Even though we got there as a united group. It reminded of a football game, but it was not. I thought about how I will have this expereience with me next time I'm on a sports event. I felt I was chosen, that I have arranged this for myself, getting the opportunity to experience a football game like this one.
The sound of childbirth and crying people was mixed with the cheering of the audience. The light was dimmed and the room was filled with smoke. Soon these beautiful horrible reality-grabbing moments occurred, where I got shakes and began to think of people who are fighting. People who fight for something they do not know what it is, ruled by others. We causally agree to split into two teams, and then it is obvious that we will fight until the arms and legs fall off and the intestines drop out. I was thinking of war of course. I think this happened about three times during the performance.
The story could have been made stronger if the scenes were put more in contrast to each other, and it might would have made it more accessible to someone like me who sometimes get a bit bored. That also would have made it more showy. But perhaps it was important that there were long moment without anything new happening, because probably this aspect make the performance more similar to a soccer match. An exciting storytelling technique was used when one in the audience got an outburst and kicked the sack when it went badly in the game. We were accompanied by live camera how this audience was abducted.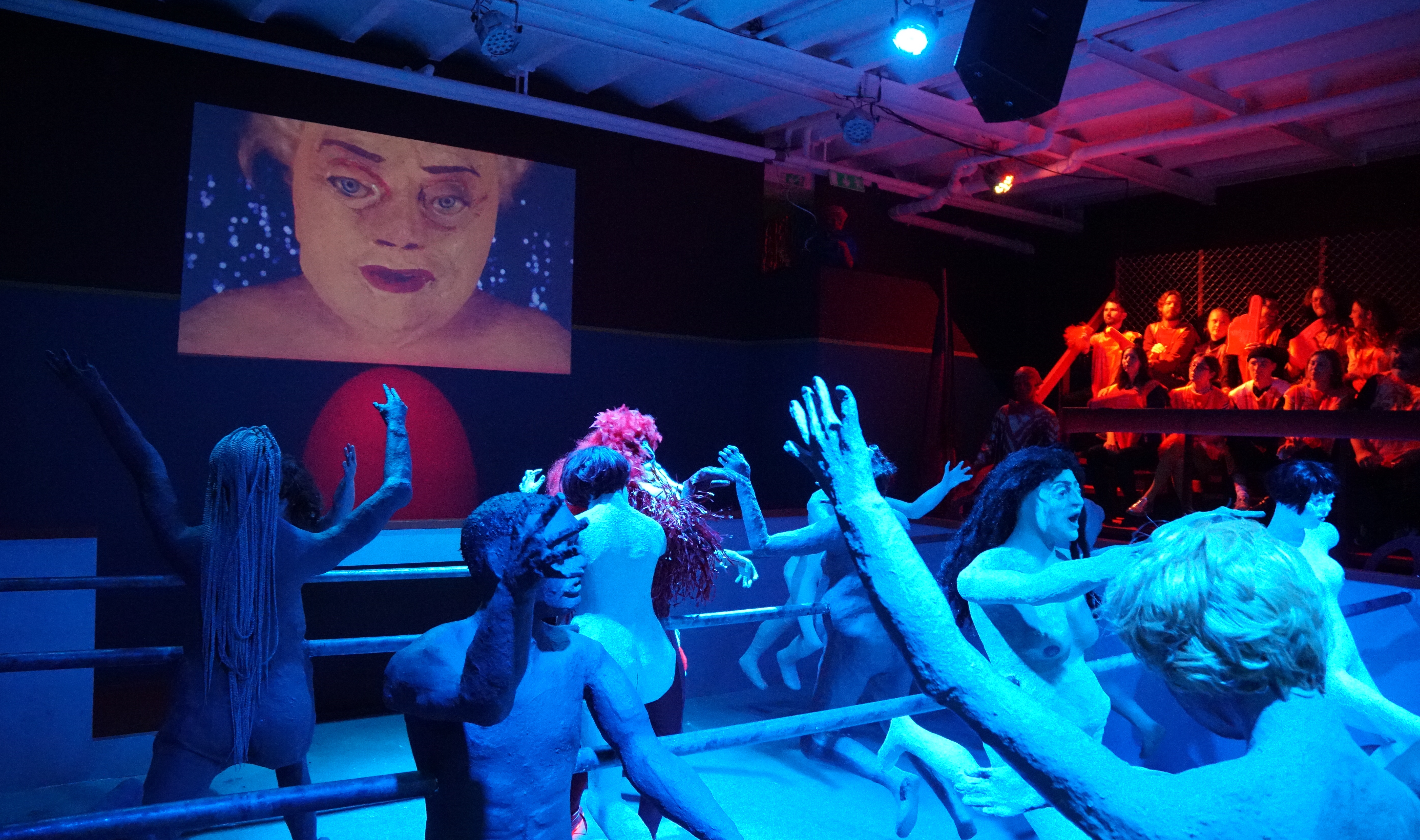 Photo: Lilith Performance Studio / Petter Pettersson
This can't be for real, was my thought when I saw some audience reactions in the game, nobody would play the game so hard? Afterwards I came in conversation with others in the audience about the experience, someone from the audience told me that everything was for real, and that its natural to express those emotions. The person who said this to me was one of them who earlier in the game screamed "throw the ball now to hell so it's possible to play!"
Parts of the text was developed in conversation with Rasmus Raphaëlle Östebro.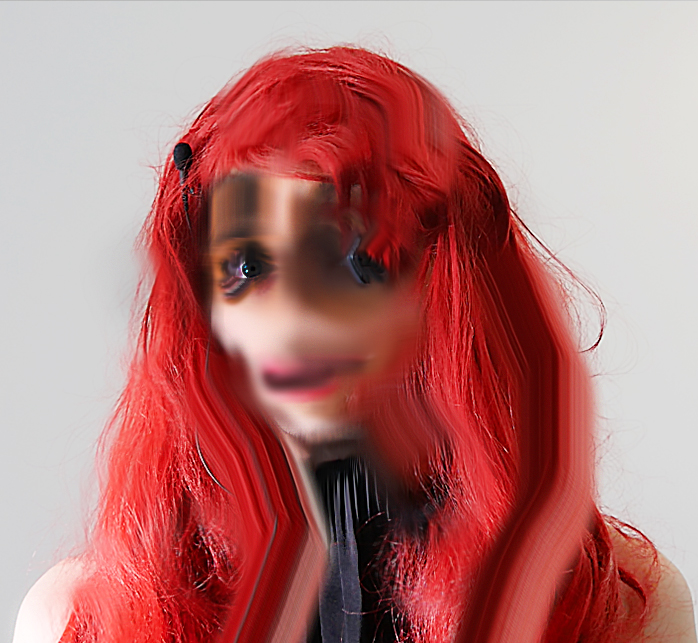 Influential Art Critic writing for Gallery Extra Magazine, Sun Times News and Gallery Extra TV.