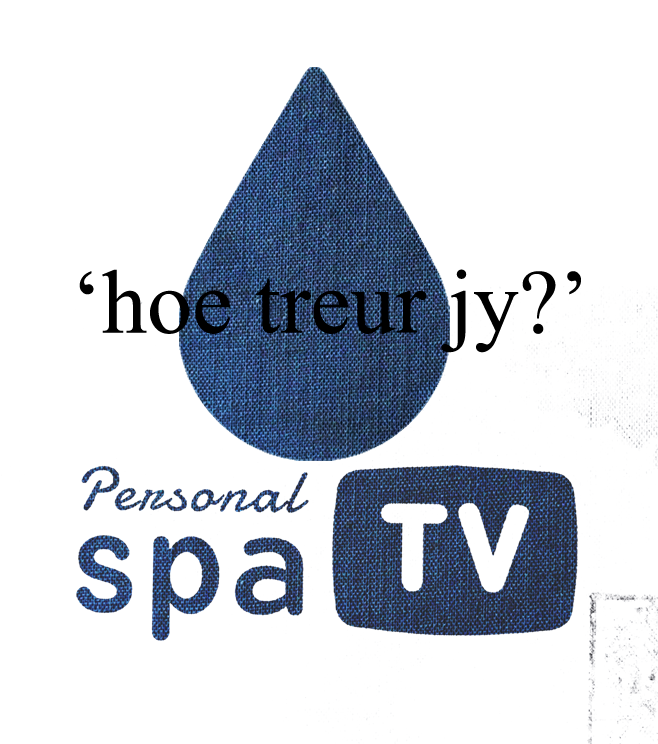 Georgia Munnik
'hoe treur jy?'
'hoe treur jy?' is the third of a seven-part series of lamination works, ranging the colours red, orange, yellow, green, blue, purple and white, called, 'how do you mourn?'. 'hoe treur jy?' is blue – the colour that follows the mantra 'I mean what I say and I say what I mean'. Blue is a translation. It is also the colour of the hardcover of the memoirs of my father's great, great grandfather, Senator Hon. G.G. Munnik. The memoirs are written in English however, the author was Afrikaans. Blue is the performed translation of selected excerpts from the book back into Afrikaans. Those present are asked to transcribe the translation for lamination. The archive will be waterproof.
– Archiving
– Performance
– Hydrotherapy
Presented to you by Personal Spa TV, a curatorial relaxing online TV chanel and partly fictional Spa Treatment Center.
The exhibition is organized with suport from The Swedish Art Associations Sveriges Konstföreningar, Iaspis Konstnärsnämnden, Greatmore Studios Trust
About the artist
Georgia Munnik is a South African visual artist based in Cape Town (b.1990). She graduated with an MFA in Fine Art from Tromsø Academy of Contemporary Art, Norway (2015) and, she returned to South Africa from Norway in 2017. She has shown artworks in solo and group exhibitions and attended artist residencies in Denmark, Finland, Norway, Russia, South Africa, Sweden and Switzerland. In 2016, she was selected to be the festival artist for the Arctic Moving Image and Film Festival. Munnik's practice is the unrelenting desire to perform a dominant language outside of ideology. She uses language as a primary medium in her work; specifically, she operates from the double bind of a formal language performing itself against the cues that denigrate its speakers to specific class, race and social positionalities. In April 2019, Munnik was the Pro Helvetia Studio Residency AiR at Atelier Mondial, Basel (CH) and she has recently returned from a three-month artist residency period at Fabrikken Konst og Design, Copenhagen (DK). In May, Munnik will be featured in a group exhibition at Stevenson (Cape Town).
Greatmore studios
15:00
Sunday 15 March
Accesability: First floor, small stair.